Post by Kai Starshine on Dec 12, 2011 0:20:37 GMT 1



DigiDestined





Name: Tai Kamiya
Crest: Courage
Digimon Partner: Agumon
OPEN !



Name: Matt Ishida
Crest: Friendship
Digimon Partner: Gabumon
TAKEN BY MATT !



Name: Joe Kido
Crest: Reliability
Digimon Partner: Gomamon
TAKEN BY KRILLO !



Name: Mimi Tachikawa
Crest: Sincerity
Digimon Partner: Palmon
OPEN !



Name: Sora Takenouchi
Crest: Love
Digimon Partner: Biyomon
TAKEN BY SON !


[/img]
Name:
Izzy Izumi
Crest:
Knowledge
Digimon Partner:
Tentomon
OPEN !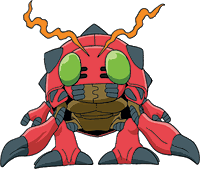 Name:
T.K. Takaishi
Crest:
Hope
Digimon Partner:
Patamon
OPEN !
[/img]
Name:
Kari Kamiya
Crest
Light
Digimon Partner:
Gatomon
RESERVED BY SON !
Name:
Kai Starshine
Crest:
Loyalty
PB:
Koichi Kimura from Digimon Frontier
Personality:
Kai Starshine is the bearer of the Crest of Loyalty. Though often naive at times, Kai is very observant and can see things that others tend to miss. Due to the fact that Kai has Cerebral Palsy (a tightening of the muscles), he tends to get bouts of depression that make him feel useless and not worthy of having friends. Despite this, Kai is a kind and a loyal friend that stands by his true friends no matter what.
Digimon Partner:
Strabimon
TAKEN BY KAI !
Name:
Luisa Cervantes
Crest:
Gentleness
PB:
Iris from Pokémon Black and White
Personality:
The first thing you'll notice about Luisa is you might not notice her at all. She's very shy and quiet, and doesn't like to talk much. This is due to her nervousness around people she doesn't know as well as her fear of being wrong. She's friendly, but is slow to make friends because of her low self-esteem and quiet nature. She always tries to make other people feel better when she can, and likes to compliment others. She gets flustered when taking compliments about herself, though. She's easily skittish, and can be difficult to motivate to fight. She comes from Spain.
Digimon Partner:
Lalamon
TAKEN BY MOLI !
Name:
Zina Olivier
Crest:
Determination
PB:
Miyuki Ayukawa
Personality:
Zina isn't hard to pick out - she's probably the loudest one you'll hear. She likes to take charge, and doesn't like to be ignored or put on the backburner. She's got things to say, and she'll say them whether you like it or not. She's smart, but likes to use her strength before she uses her head. She also relies quite a bit on instinct and what she thinks about something, and that, more often than not, can guide her. She hails from South Africa, and has lived through interesting and strange times, to say the least.
Digimon Partner:
Dorumon
OPEN! !
Name:
Miranda Starshine
Crest:
Compassion
PB:
Hyuuga Hinabi
Personality:
Miranda is Kai Starshine's younger sister and has a tremendous amount of compassion. She just hates to see anyone suffer, and like her brother, Kai, she is very loyal. She spends a lot of time with Kai and admires him greatly. She may seem like a frail girl but she is anything but. Having been taught some martial arts by her mother, Miranda is a very capable fighter and doesn't like to be molly-coddled. Miranda doesn't become a DigiDestined til the Myotismon arc.
Digimon Partner:
Floramon
TAKEN BY MIRANDASTARSHINE !
Digimon Partners
AgumonGabumon
Biyomon
Tentomon
Gomamon
Palmon
Patamon
Gatomon
Strabimon
Lalamon
Dorumon
Floramon
Families
Susumu Kamiya - Tai's father
Yuuko Kamiya -Tai's mother
Hiroaki Ishida - Matt and TK's father
Nancy Takaishi - Matt and TK's mother
Haruhiko Takenouchi - Sora's father
Toshiko Takenouchi - Sora's mother
Keisuke Tachikawa - Mimi's father
Satoe Tachikawa - Mimi's mother
Dan Kido - Joe's father
Jake Kido - Joe's older brother
Jim Kido - Joe's older brother
Masami Izumi - Izzy's adoptive father
Yoshie Izumi - Izzy's adoptive mother
Alexander Starshine - Kai's father
Sayuri Starshine - Kai's mother
Tristan Starshine - Kai's older brother
Manuel Carlos Julio Cervantes - Luisa's father
Anita Inez Flores Cervantes - Luisa's mother
Carlos Julio Damian Cervantes - Luisa's younger brother
Enemy Digimon
Puppetmon
Piedmon
MetalSeaDramon
Etemon
Myotismon
Devimon
DemiDevimon
LadyDevimon
Apocalymon
Others
Gennai
Leomon
Ogremon
Pixiemon
Andromon
Monzaemon
Shellmon[/blockquote]